Applications of STABL
commercial storage
Find out more about the various applications of commercial storage systems and find out why storage systems with STABL inverters are the best choice.
Battery storage is the key to a successful energy transition. Roughly speaking, they come in three performance classes. As a classic electricity storage system for the home, they help private individuals to become independent of rising energy prices (home storage). Commercial and industrial enterprises can reduce electricity costs by cutting their peak loads with commercial storage systems. Finally, at grid level, they store surplus energy from wind and solar plants and make it available when the sun is not shining or the wind is not blowing (large-scale storage).
STABL Energy's inverter technology is designed for industrial and commercial storage systems. On this page, we go into detail about the areas of application for such storage systems.
Commercial storage is versatile, creates new opportunities and can minimise costs. Increase your own consumption of self-produced solar power and save costs by drawing less electricity from the grid. Avoid load peaks, which are largely responsible for your electricity price. Create the possibility to operate charging stations even though the grid connection capacity at your location is not actually designed for this. Prevent your company from coming to a standstill in the event of a power failure and protect sensitive equipment with an uninterruptible emergency power supply. This is only an excerpt from the many areas of application for battery storage that can be useful in commercial and industrial operations.
The unique efficiency and user-friendliness of a STABL system drastically increases the advantages of a battery storage system. Save on acquisition & operating costs and make your business future-proof, sustainable and efficient - no matter what industry you are in.
A commercial warehouse has these applications
Increase in self-consumption
Get more from self-generated electricity
Solar systems and wind turbines often generate so much electricity that there is a surplus that has to be fed into the grid. What used to be made profitable through feed-in tariffs is often no longer worthwhile today.
Increase in self-consumption
Get more from self-generated electricity
By installing a commercial storage unit, you can capture this electricity and use it later when solar or wind energy is no longer available. In this way, you save yourself the expensive electricity from the grid and become more independent of rising electricity prices.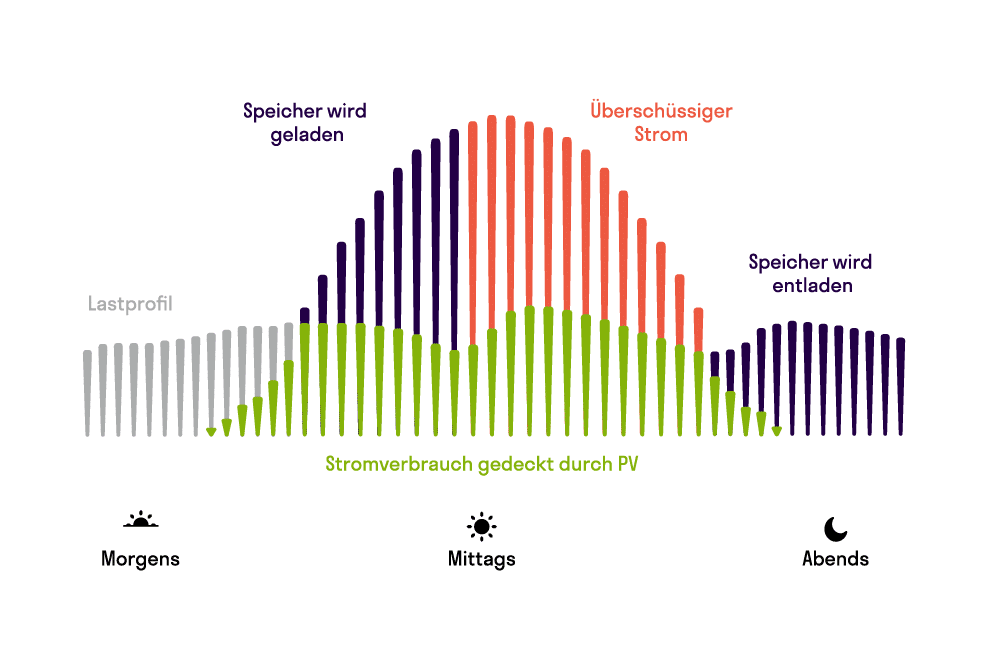 Avoid peak loads and save money
For electricity purchases of more than 100,000 kWh per year, your electricity price is based on the highest power purchased within a year. The higher the one-off power drawn, the higher the energy costs. A commercial storage tank helps you to cap these power peaks and thus save cash.
Schnell­ladesäulen trotz geringer Netzanschluss­leistung
Increasing the grid connection power costs a lot of money. Here, a battery storage system can act as a buffer: It can be continuously charged via the low power of the grid and releases the high demanded power as needed.
Never sit in the dark again
With a commercial storage system, you make yourself independent of power outages and can maintain the supply when the grid operator cannot. Gaps in supply are bridged, your production can continue, and even in the event of longer-term outages, you have the option of shutting down operations in a controlled manner without causing any damage.
Community electricity storage
Quartierspeicher bezeichnen Stromspeicher, welche von mehreren Verbrauchern gemeinsam genutzt werden. So können mehrere Verbraucher in einem örtlich begrenzten Umfeld zusammentun, um individuell generierte Energie aus z.B. Photovoltaikanlagen gemeinsam zentral zu speichern und zu nutzen.
A new architecture for stationary industrial and commercial storage. That's what's behind STABL Energy.