Commercial energy storage
Without the investment or the risk.
Protect yourself from rising energy costs and benefit from all the advantages that battery storage has to offer – but without the high upfront investment or complex warranty conditions.
With the STABL Energy storage subscription, you can start saving from your very first energy bill.
Great reasons to use energy storage
Energy prices have been on the rise for years — it's time to become independent. Battery storage can minimize your energy bill using different Applications . Save costs and increase your profits.
Make the most of your reliable supply of sustainably generated electricity using battery storage. By temporarily storing excess solar power, you can increase your own consumption of it and gain long-term independence from energy providers.
Given the current global economic challenges and lack of expansion in renewable energies, there's a greater risk of local power failures. Stay connected even when your local grid operator fails. Your business can continue to run despite longer downtimes—or you can choose to pause your operations in a controlled manner—and avoid any financial damage.
There's a growing demand for sustainable electric car charging stations, whether for customers, employees, or your own fleet. Instead of expanding your electricity network in an expensive and time-consuming way, simply adopt our charging infrastructure—quickly, cost-effectively, and at almost any location.
Disadvantages of conventional battery storage
Battery storage is a huge undertaking with high upfront acquisition costs. On top of that, there's usually a long amortization period of 7 to 10 years.
Complicated warranty conditions
Batteries have complex aging mechanisms that depend heavily on how they're operated and used. That's why the warranty conditions for battery storage can often seem incomprehensible, making it almost impossible to fully comply with them. We think that's too big a risk when making such a huge and important investment.
The solution: STABL Energy storage subscription
With the STABL Energy storage subscription, you can enjoy all the benefits of battery storage without the hassle of dealing with warranty terms or liabilities.
Thanks to our subscription model, you don't have any high upfront costs. Start saving money from day one. Say goodbye to complex financing plans, long repayment schedules, and risky savings models.
Don't worry about a thing
Leave all the day-to-day energy storage operations to us. We reliably take care of the maintenance, servicing and any other issues. You can simply enjoy the benefits — it's easy and there are no hidden costs. This way, you can fully concentrate on your business.
We integrate used batteries from electric vehicles, giving them a second life. Not only does this reduce resource consumption, it also hugely reduces CO2 emissions. That's what we call real sustainability—creating a true circular economy.
STABL Energy is a spinoff firm from the Technical University of Munich, the Bundeswehr University of Munich, and the Osnabrück University of Applied Sciences.
Our technology replaces conventional inverter and battery management systems, and is fully optimized for battery requirements. Not only do our power electronics lead to higher efficiency, but also to safer battery voltage, maximum use of battery capacity and maximum reliability.
Our storage system — efficient and secure
Power: 67.5 kW (three-phase)
Energy: 98 kWh / 196 kWh
Tested according to CE, VDE-AR 4105, IEC 69219 guidelines
The efficiency of high-voltage systems is combined with the safety of low-voltage storage
We develop our first available system together with our partners at encore | DB, using batteries supplied by KIA.
Further systems with other partners are currently in development.
By integrating used car batteries, we save up to 70% of CO2 emissions, in comparison to new batteries.
CO2 emissions — STABL second-life storage
CO2 emissions — conventional storage
Five easy steps to a storage subscription
Through a no-obligations initial consultation, we'll find out exactly which energy storage system suits your needs best.
Next, we analyze your load profile and calculate the perfect storage size for your needs. For example, if a PV system offers you the most savings, we'll advise you on how this works.
Select your subscription model and any additional features – to perfectly fit your needs. We'll take care of the rest.
We install and commission your battery storage at your chosen location.
Enjoy the full advantages of your sustainable STABL battery storage, knowing that we'll take care of everything else.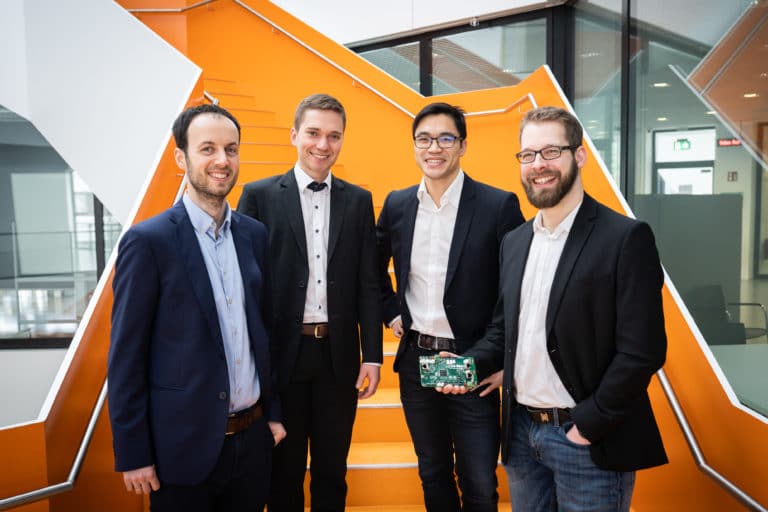 STABL Energy began as a research project by the Technical University of Munich, the Bundeswehr University of Munich, and the Osnabrück University for Applied Sciences. We're a team of experts, specializing in battery technology and power electronics.
Founded in 2019, our goal is to increase the use of renewable energy through energy storage. We do so by helping storage manufacturers, system integrators and EPCs move away from central inverters for power storage. By using our technology instead, they can make power storage safer, more reliable and more efficient.
Today, STABL Energy is based in Munich and employs more than 40 employees from 9 nations, who have all worked for renowned international firms, such as Tesla, BMW and Siemens.